(English, 日本語, .... photos & prices - see below!)
LED Taiko-Bachi / Taiko drumsticks – exklusiv von KAISER DRUMS - jetzt kommt Farbe und Licht ins Spiel!
Die KAISER-DRUMS LED Taiko-BACHI zaubern sensationelle Licht und Farbeffekte in jede Taiko Performance. Vom mystischen Blau bis zum feurigen Rot funkeln die LED-Strahlen aus den Enden der Trommelstöcke und projizieren faszinierende, bunte Lichtspuren auf die Trommelfelle, in die Luft und die Umgebung. Die unbändige Kraft und Dynamik des Taiko-Trommelns wird ergänzt durch leuchtend visualisierte Bewegungen und Lichteffekte – ein echtes Highlight!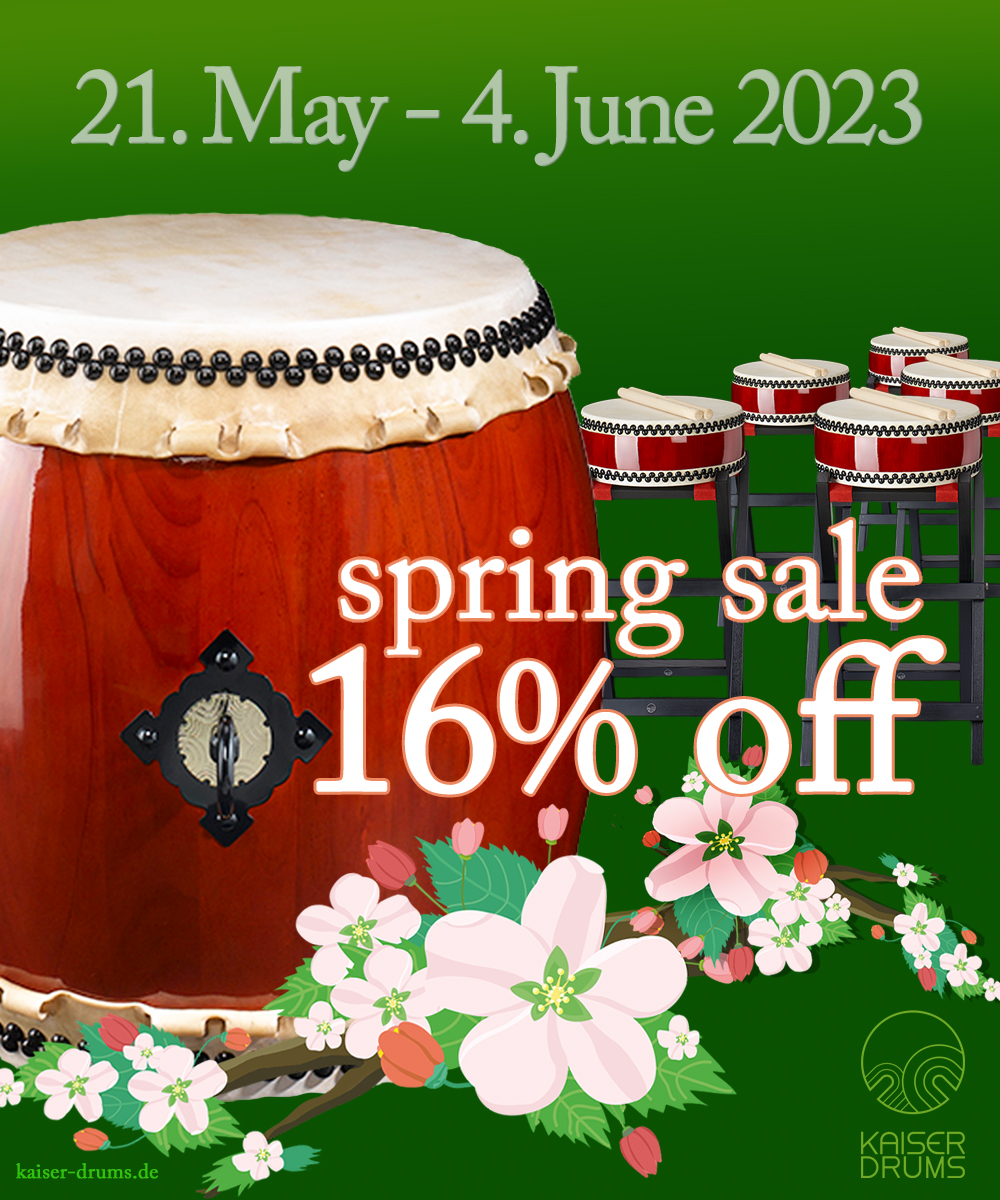 - robuster Taiko-Trommelstock aus Hainbuche Ø2,5cm x 41cm, ca. 150g/Bachi

- 10 Farbmodi mit verschiedenen Effekten (strobo)

- jederzeit und überall aufladbar an jedem Laptop, PC, iCharger

- benötigt keine zusätzlichen Batterien

- Micro USB Y-Ladekabel mit Betriebsanzeige

- bis zu 3h Lichtbrenndauer

- 360 Grad Visualeffekt durch Nylonkopf

- Einschalten & Ausschalten durch Berührung des MicroUSB → 2-3 sek. (Tipp - ggf. Finger befeuchten - dann klappt's sehr gut!)

- Durch Berührung des MicroUSB (1-2 sek.) werden die 10 Farbmodi angewählt/verändert

- bis zu 500m sichtbar

- bis zu 500m sichtbar

- Eine optimale Ladung beträgt nur ca. 1h. Sobald die Akkus vollständig geladen sind, blinken die LED-Bachi Grün auf!

- Aufladen nur im ausgeschalteten Zustand. Im Ruhezustand wird der Akku leicht entladen.

- Transportkosten: 6€ innerhalb Deutschlands (für 1-2 Paar - siehe auch unter der Rubrik BACHI)

- Preis: 75€ / Paar (* 63,00€ netto)




Bestellungen

Bitte senden Sie uns Ihren Bestellwunsch per Email (incl. Ihrer Adresse) oder rufen Sie uns an. Sie erhalten dann von uns eine Bestätigung Ihrer Bestellung (incl. Versandkosten) und anschließend senden wir Ihnen eine Rechnung zu. Sie zahlen per PayPal, Banküberweisung oder Kreditkarte und wir versenden die Taiko-Artikel sofort nach Zahlungseingang. (inkl. Sendungsverfolgung)

Wir freuen uns auf Ihren Kontakt.

FB-Bewertungen / Google-Bewertungen

Alle Preise verstehen sich inkl. 19% deutscher MwSt. * bei Lieferung in Läner außerhalb der EU werden Nettopreise berechnet, also ohne 19% MwSt. Die im Empfängerland geltende Einfuhrumsatzsteuer und eventuell anfallende Zollgebühren trägt der Käufer. Sie sind nicht in den angegebenen Versandkosten enthalten. Die Höhe dieser Steuern und Gebühren können wir leider nicht vorhersagen, da sie in den jeweiligen Ländern variieren.

Ihr KAISER DRUMS Team

Entwickelt von Magicsticks für KAISER DRUMS - exklusiver Vertrieb durch KAISER DRUMS - Made in Switzerland!
| | | | | |
| --- | --- | --- | --- | --- |
| Menge | Artikel | Rabatt | Preis | Gesamtpreis (incl. Transport) innerhalb Deutschlands |
| 1 Paar | LED-Taiko Bachi | | 75,00€ | 81,00€ |
| 2 Paar | LED-Taiko Bachi | | 150,00€ | 156,00€ |
| 5 Paar | LED-Taiko Bachi | 5% | 356,00€ | 363,00€ |
| 8 Paar | LED-Taiko Bachi | 8% | 552,00€ | 560,00€ |
| 10 Paar | LED-Taiko Bachi | 10% | 675,00€ | 684,00€ |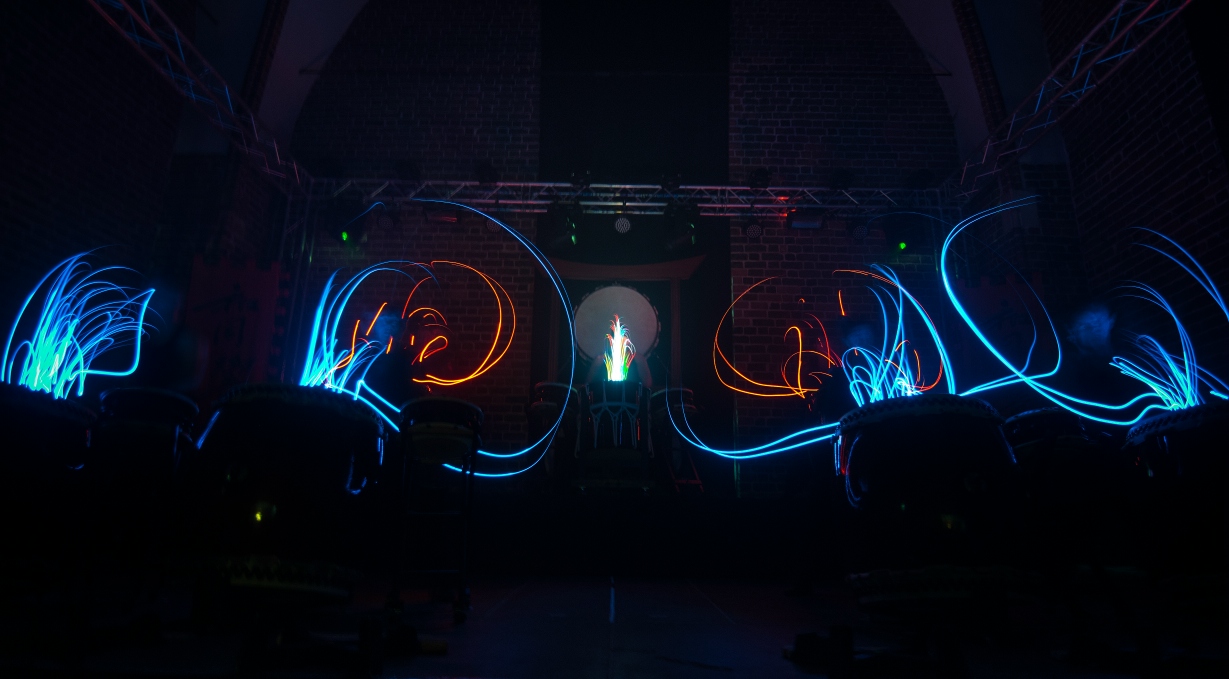 Baguettes LED Taiko-Bachi – une exclusivitè KAISER DRUMS – la lumière et la couleur s`invitent dans votre jeu!
Les toutes nouvelles TAIKO-BACHI LED apportent la magie d`effects lumineuz et colorès sensationnels à chaque performance de Taiko.
Du bleu mystique au rouge flamboyant, les èclats LED au bout des baguettes dessinent des traces lumineuses sur les peaux des tambours et signent chaque movement du musician. Les mouvements et effets lumieux soulignent evec éclat la puissance exubèrante et la dynamique des tambours Taiko. Une veritable performance!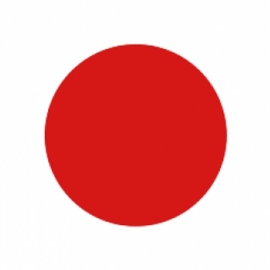 世界初 - LED太鼓撥 / カイザードラム 特製 - 今、太鼓の演奏にも、色彩と光の世界が訪れようとしています。
カイザードラム製の新製品 LED 太鼓用撥 は、素晴らしい色彩と光りによって太鼓パフォーマンスを魔法の様により素晴らしい効果をもたらします。神秘的な青から情熱的な赤い光が、撥の先端から迸り、色彩鮮やかな光線が太鼓の表面やその空間に映し出されます。
視覚的に映し出された光線によって、太鼓演奏の力や勢いに、なお一層、効果的なインパクトを与える事でしょう。 ー 舞台のハイライトとなる事間違いなしです!詳しくは

LED Taiko-Bachi / Taiko bacchette – in esclusa da KAISER DRUMS – diamo luce e colore ai tamburi!
I nuovissimmi KAISER DRUMS LED TAIKO-BACHI danno luce ed effetti di colore sensazionali in ogni performance Taiko. Da un blu mistico ad un rosso furioso scintillano I LED – raggi fuori della bacchette e progettano affascinante segnali di luce colorato – sia sulla pelle che in alto – creando un ambiente favoloso. La travolgente forza e dinamica del Taiko tamburellare viene accompagnato di lucente movimenti visualizzati. Un vero HIGHLIGHT!
KAISER DRUMS presenta en exclusiva - los PRIMEROS bachis para taiko ilunimados por Led del mundo - ahora el color y la luz entran en juego! El nuevo y exclusivo producto de KAISER DRUMS, los led taiko bachi los añaden sensacionales efectos de Luz y color en las interpretaciones de taiko. Su potende luz LED - En diversos colores: desde mystical blue hasta rojo brillante- proyecta una estela de luz y color en el cuero de los tambores, en el aire o en las proximidades del taiko. La impresionante energía y fuerza de los tambores taiko, ahora complementada con movimientos llenos de color y preciosos efectos visuales. Descúbrelo solo en Káiser Drums!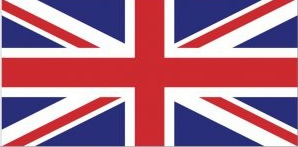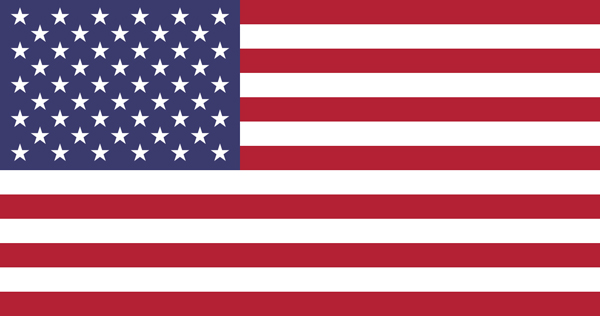 LED Taiko-Bachi / Taiko drumsticks – exclusively at KAISER DRUMS - now color and light comes into play!
The KAISER DRUMS LED Taiko-BACHI create sensational light- and color effects in all Taiko performance. Bright LED beams - from mystical blue to fiery red- leave the drumsticks projecting fascinating, colorful light trails on the drumheads, in the air and the surrounding. The overwhelming power and dynamics of Taiko drumming is complemented by bright visualized movements and lighting effects - a real highlight!
- Solid, massive Taiko drum stick, hornbeam Ø2,5cm x 41cm, approx. 150g/stick
- 10 color modes with different effects (incl. strobe)
- Easy recharging with Y MicroUSB cable supplied
- Compatible to any laptop, pc, iCharger, anytime, anywhere
- Up to 3h lighting time
- 360˚ visual impact, thanks to nylon end lens
- Active and switch by touching the micro USB connectors longer than →2-3 sec. (Tip - moisten your fingers - then it works well!)
- The ten colour modes can be selected by touching (> 1-2 sec) the micro USB briefly
- Optimum charing time is around only 1h. The LED-Bachi will flash green as soon as the batteries are fully charged!
- Keep the LED-Bachi switched off during charging. The batteries discharges when the LED-Bachi are not in use.
- visible over 500meter
price: 75€ / pair (* 63,00€ net)
ORDERS:
Please send us your order request via email (incl. your address) or call us. We immediately confirm your order via email (incl. shipping-cost) and you'll receive an invoice. Payment is possible by PayPal, bank-transfer or credit-card and shipping is directly after receipt of payment. (incl. tracking-link) We look forward to hearing from you. info@kaiser-drums.de +49 (0) 211-4370715.
All prices include 19% German VAT * for delivery to countries outside the EU net prices are charged, thus without 19% VAT.
The import sales tax applicable in the country of destination and possibly arising customs duties are borne by the buyer and are not included in the stated shipping costs. Unfortunately, we cannot predict the amount of these taxes and fees, as they vary from country to country.
Yours KAISER DRUMS Team
Developed by Magicsticks for KAISER DRUMS - exclusive distribution by KAISER DRUMS - Made in Switzerland!
quantity

article

discount

brutto

gross

price/pair

*

total-amount

(incl. shipping-cost)

European Union

total-amount *

(incl. shipping-cost)

Switzerland

total-amount *

(incl. shipping-cost)

Outside of the EU.

(Japan, USA , Australia...)

1 pair

LED-Bachi

75,00€

90,00€ *

81,00€ net *

104,00€ net *

2 pairs

LED-Bachi

150,00€

165,00€ *

144,00€ net *

167,00€ net *

5 pairs

LED-Bachi

5%

356,00€

377,00€ *

324,00€ net *

350,00€ net *

8 pairs

LED-Bachi

8%

552,00€

573,00€ *

489,00€ net *

520,00€ net *

10 pairs

LED-Bachi

10%

675,00€

698,00€ *

594,00€ net *

632,00€ net *

*

with DHL-Premium (fast & with detailed tracking)