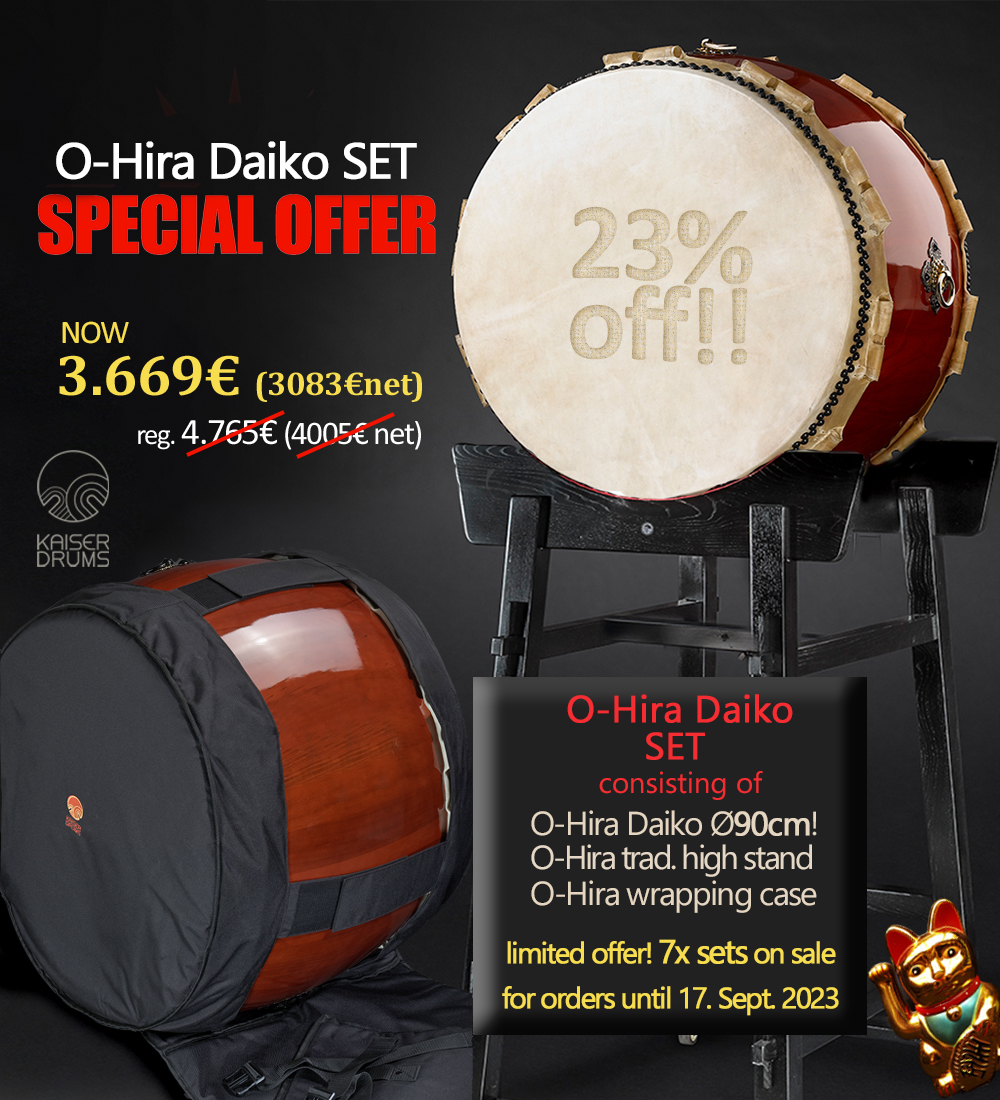 O-Hira-Daiko SALE bei KAISER DRUMS - einmalige Sonderaktion!
(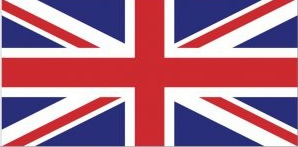 -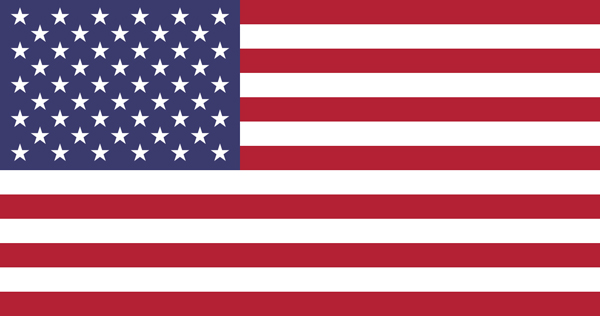 -

-

- see below!)
Klanggewaltig und wunderschön - die große O-HIRA-DAIKO high-quality (Ø90cm/h:65cm)
ist die heimliche Königin unter den KAISER DRUMS Taiko Trommeln.
Durch ihre imposante Größe und den wunderbar kraftvollen, warmen Klang, wird das Spiel an dieser
mächtigen Taiko Trommel zu einer großartigen Erfahrung für alle Taiko Spieler und Zuhörer.
Und jetzt gibt es einmalig vom 27. August - 17. September 23 traumhafte 23% Rabatt
auf ein O-Hira Daiko SET! Das heißt 1000€ sparen!👍
Und so sieht das O-Hira Daiko SET aus:
- 1x O-Hira-Daiko, hq. Trommelfell: Ø90cm, Außendurchmesser: Ø102cm, Höhe 65cm, rotbraun
- 1x traditioneller Hochständer mit Rollen, schwarz, 180cm vom Boden bis Trommelfell Mitte
- 1x O-Hira-Daiko Wickeltasche, mit 2x2 Tragegriffen, wasserabweisendes Nylon, schwarz
EU Preise brutto 4.765€ -23% Rabatt = jetzt 3.669€
nicht EU Preise
netto
4.005€
-23% Rabatt
=
jetzt
3.083€
Versandkosten 🚚 ✈ 🚢 - siehe Foto unten!
Es stehen insgesamt 7x O-Hira-Daiko SETS zur Verfügung und wer zuerst kommt mahlt zuerst,
also nicht verpassen!
Die Preise gelten für den Erwerb eines kompletten SETS, nicht für die einzelnen Artikel.
Mit diesem ziemlich unschlagbaren Angebot möchten wir gern etwas dazu beitragen, dass ihr und immer mehr
Taiko-Trommler, Gruppen, Schulen, Dojos, Tempel, Musiker, Orchester usw. in den Genuss dieser wundervollen
großen Taiko Trommel kommen können. Wir freuen uns darauf von euch zu hören!
Herzliche Taiko Grüße
Euer KAISER DRUMS Team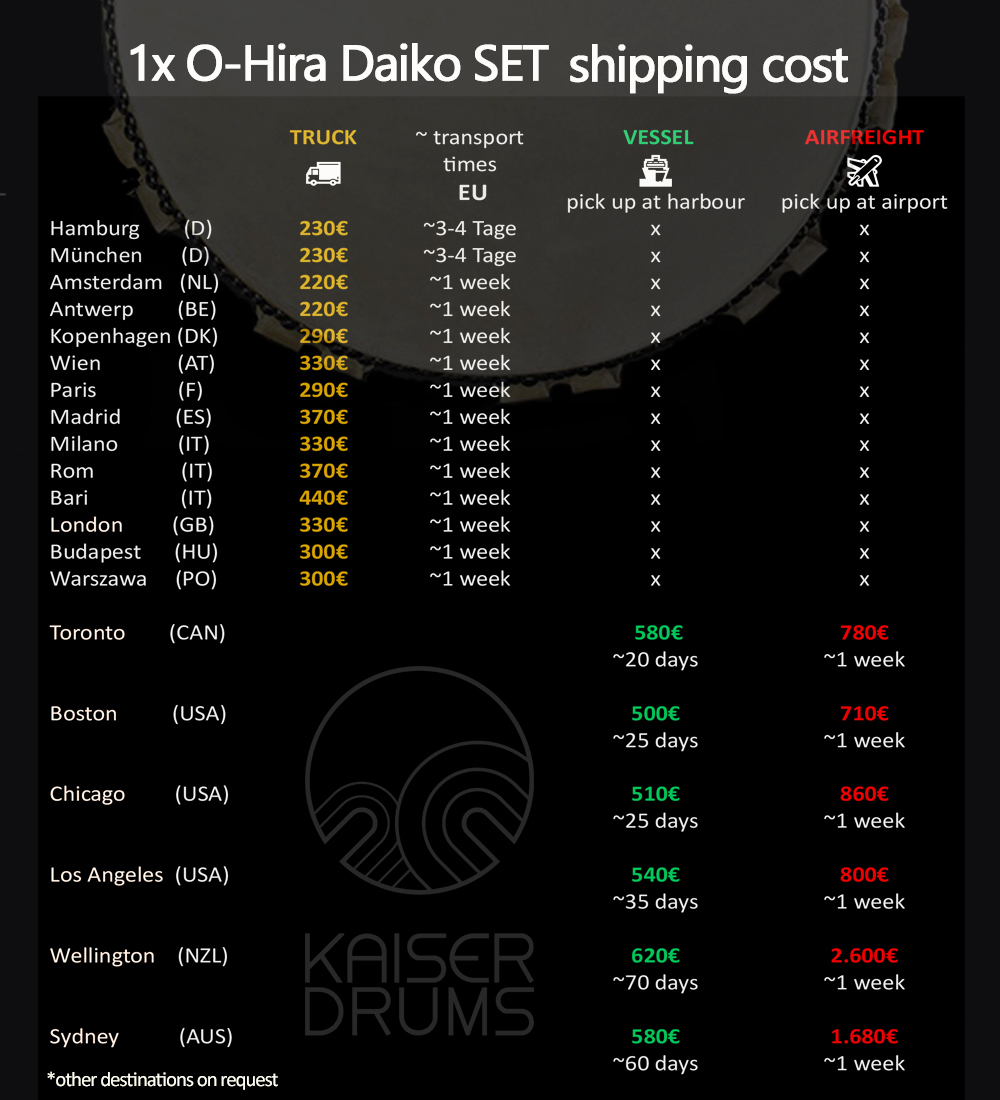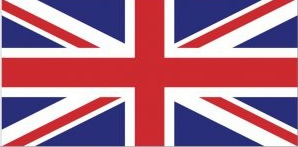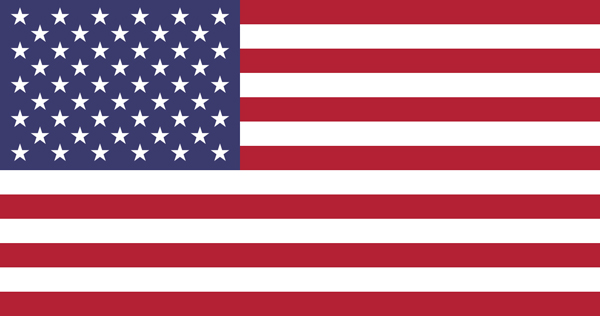 O-Hira-Daiko SALE at KAISER DRUMS - one-time special offer!
Powerful sound and just gorgeous - the large O-HIRA-DAIKO high-quality (Ø90cm/h:60cm)
is the secret queen among the KAISER DRUMS Taiko drums.
Its imposing size and amazingly strong and warm sound make playing this mighty Taiko drum
a great experience for all Taiko players and listeners.
And now, for one time only - from 27 August - 17 September 23 - we offer a fantastic 23% discount
on the O-Hira Daiko SET! That means saving up to 1000€!👍
And this is what the O-Hira Daiko SET is all about:
- 1x O-Hira Daiko, hq. drumhead: Ø90cm, outer diameter: Ø102cm, height 65cm, red-brown.
- 1x traditional high stand with wheels, black, 180cm from floor to drumhead centre
- 1x O-Hira-Daiko wrapping bag, with 2x2 carrying handles, water-repellent nylon, black
EU prices gross 4.765€ -23% off = now 3.669€
n
on
EU prices
net
4.005€
-23% off
=
now
3.083€
Shipping costs 🚚 ✈ 🚢 - see photo above!
There are a total of 7x O-Hira-Daiko SETS available and first come first served, so don't miss out!
Prices are for the purchase of a complete SETS, not the individual items.
With this unbeatable offer we would like to contribute a bit that you and more and more Taiko-drummers,
groups, schools, dojos, temples, musicians, orchestras etc. being able to enjoy this wonderful big Taiko drum.
We look forward to hearing from you!
Best taiko regards from Düsseldorf
Yours KAISER DRUMS Team

ATTENTION EXCLUSIVITE - OPERATION SPECIALE O-Hira-Daiko chez KAISER DRUMS
Un son puissant et envoûtant, telle pourrait être la définition du O-HIRA-DAIKO de haute qualité,
un roi parmi les tambours Taiko de la gamme KAISER DRUMS.
Sa taille imposante (Ø90cm/h:65cm) et sa puissance sonore font de chaque
utilisation une expérience unique pour son utilisateur comme pour son public.
Du 27 août au 17 septembre 2023 SEULEMENT profitez d'une remise exceptionnelle de 23%
sur l'ensemble O-Hira-Daiko, soit une économie de 1000€!
Attention, quantité limitée à sept ensembles.
L'ensemble O-Hira-Daiko se compose comme suit :
- 1x O-Hira-Daiko hq. peau: Ø90cm, diamètre extérieur: Ø102cm, hauteur 65cm,rouge brun
- 1x support traditionel haut sur roues, noir, h 180cm du sol jusqu'au milieu de la peau
- 1x sac d'emballage O-Hira-Daiko équipé de 2x 2 poignée, en nylon hydrofuge, noir
Prix brut UE 4.765€ -23% = maintenant 3.669€
Prix net hors
U
E
4.005€
-23% =
maintenant
3.083€
Frais de port 🚚 ✈ 🚢 - voir photo!
Seulement 7x ensembles O-Hira-Daiko disponibles! Premier arrivé, premier servi!
Les prix s'entendent uniquement pour un set complet, pas de vente au détail.
Grâce à cette offre exceptionnelle, KAISER DRUMS espère ouvrir de nouvelles opportunités
de pratique et de plaisir aux joueurs, groupes, écoles, dojos, temples, musiciens, orchestres…
Nous vous conseillons toujours avec plaisir, alors n'hésitez pas à nous contacter!
Taikoment vôtre
KAISER DRUMS Team

Offerta irripetibile: O-Hira-Daiko di KAISER DRUMS!

Suono potente e semplicemente stupendo: il grande O-Hira-Daiko di alta qualità (Ø90cm/h:60cm)
è il re incontrastato tra i Taiko KAISER DRUMS.

Suonare questo tamburo dalle dimensioni imponenti e dal suono incredibilmente potente e caldo,
é davvero una grande esperienza sia per chi lo per suona che per chi lo ascolta!
Solo per una volta, dal 27 agosto al 17 settembre 2023, un fantastico sconto del 23%
sull'intero SET di O-Hira Daiko!! Puoi risparmiare fino a €1.000!

Il SET è composto da:

- 1x O-Hira Daiko di alta qualità: Ø90cm, diametro esterno Ø102cm, altezza 65cm, rosso-marrone.
- 1x supporto alto tradizionale con ruote, nero, 180 cm dal pavimento al centro della pelle
- 1x borsa avvolgente O-Hira-Daiko, con 2x2 manici per il trasporto, nylon idrorepellente, nero
Prezzi lordi UE da 4.765€ -23% = ora 3.669€
Prezzi
netti
extra-UE
da
4.005€
-23%
=
ora
3.083€

Per le spese di spedizione 🚚 ✈ 🚢 - vedi foto!
Sono disponibili soltanto 7x SET O-Hira-Daiko, e daremo priorità a chi prenota subito.
Quindi, non perdere questa occasione! I prezzi si riferiscono per l'acquisto di un SET completo,
non dei singoli articoli.

Con questa offerta imbattibile vogliamo dare la possibilità a sempre più praticanti di taiko
(gruppi, scuole, dojo, templi, orchestre, ecc.) di godere di questo meraviglioso grande tamburo.
Restiamo in attesa della tua risposta!
Cordiali saluti da Dusseldorf
Cordiali saluti dalla Squadra KAISER DRUMS
---------------------------------------------------------------------------------------------------------------------------------------------------------------