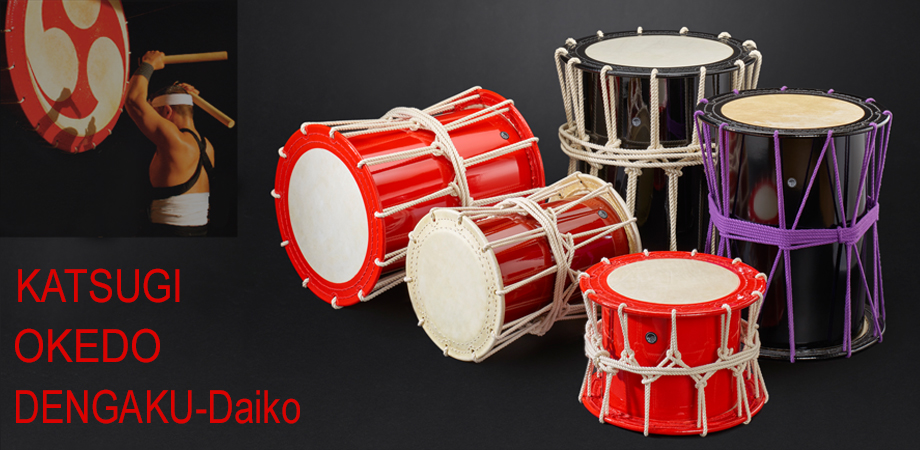 (English, photos & prices - see below!)
Die KATSUGI-/ OKEDO-DAIKO besteht aus verleimten Dauben aus Tung Holz und ist sehr leicht. Sie wird meistens gespielt indem sie mit einem Gurt um Hals und Schulter gehängt wird und so auch beidseitig getrommelt werden kann. Für die größeren Okedo-Daikos (D:54cm & 110cm) werden passende Okedo-Ständer benötigt, die wir ebenfalls anbieten. Die Trommelfelle bestehen aus Rinderhaut und werden mit dem lilafarbenen oder weißen Baumwollseil gespannt. Die Oberfläche der Okedo hat eine schwarz oder rot hochglänzende Lackierung, die ihr ein sehr edles Aussehen verleiht. Alle Okedo-Daikos werden ungespannt geliefert!
Die kleine DENGAKU-Taiko ist ein echtes Fliegengewicht.

Bauweise und Material sind die gleichen wie die der Katsugi-Daiko. Mit nur ca. 3kg Gewicht ermöglicht sie dem Trommler allerdings fast unbegrenzte Mobilität und Flexibilität, besonders bei tänzerischen Elementen. So wurde diese Taiko auch ursprünglich oft beim traditionellen Dengaku (田楽) Tänzen eingesetzt, einer typischen Darbietung der Heian Zeit. In knallrot, gespannt mit weißem Baumwollseil setzt sie auch optisch einen starken Akzent und ist mit Schultergurt beidseitig oder auch als Handtrommel bespielbar.

Diese neue GŌ 強 KATSUGI Taiko (Ø34cm/h:44cm) hat es in sich!

Meist umhängend gespielt und durch ihr geringes Gewicht, Bauweise und Seilspannung, ist sie eine Art Katsugi-Daiko.

Sie ist aber um einiges kleiner und leichter und erzeugt einen wesentlich kräftigeren und klaren Sound, der bei hoher Seilspannung dem Sound der Shime-Daiko gleicht. Ein stabiler Korpus aus robuster Hainbuche und beidseitige, starke Rinderfelle ermöglichen eine hohe Spannung mit Hilfe der starken Baumwollseile und machen diese zierliche Taiko zu einem eindrucksvollen Kraftpaket, das mit nur 4,5kg als Leichtgewicht viel Bewegungsfreiheit und schnelles Spiel zulässt und dabei mit starkem, hellem Sound überzeugt.

GŌ Katsugi "SOUNDFILE"

(Diese Taiko ist ganz neu, hoch gespannt und noch nicht eingespielt)
Der gefütterte, komfortable Schultergurt aus Nylon für die Katsugi-/Okedo-DAIKO ist auf die gewünschte Länge verstellbar. An beiden Enden befinden sich Schnüre, mit denen der Gurt an der Okedo befestigt wird. Über die Schuler gelegt, ermöglicht er das traditionelle beidseitige Trommeln der Okedo Daiko.
Bestellungen:
Bitte senden Sie uns Ihren Bestellwunsch per Email (incl. Ihrer Adresse) oder rufen Sie uns an. Sie erhalten dann von uns eine Bestätigung Ihrer Bestellung (inkl. Versandkosten) und anschließend senden wir Ihnen eine Rechnung zu. Sie zahlen per PayPal, Banküberweisung oder Kreditkarte und wir versenden die Taiko-Artikel sofort nach Zahlungseingang. (inkl. Sendungsverfolgung)
Wir freuen uns auf Ihren Kontakt.
FB-Bewertungen
/
Google-Bewertungen
Alle Preise verstehen sich inkl. 19% deutscher MwSt. * bei Lieferung in Länder außerhalb der EU werden Nettopreise berechnet, also ohne 19% MwSt. Die im Empfängerland geltende Einfuhrumsatzsteuer und eventuell anfallende Zollgebühren trägt der Käufer. Sie sind nicht in den angegebenen Versandkosten enthalten. Die Höhe dieser Steuern und Gebühren können wir leider nicht vorhersagen, da sie in den jeweiligen Ländern variieren.
Ihr KAISER DRUMS Team
#taiko #wadaiko #taikodrums #japanischetrommeln #japanesedrums #taikotrommeln #tamboresjaponeses #bachi #tambourjaponais #japanesedrum #tamburigiapponesi #taikodrumsticks #kaiserdrums #okedodrum #katsugidrum #Miyadaikodrum #nagadodrum #okedotrommeln #katsugitrommel
Artikel /article

FellØ

drumheadØ

Höhe

height

Farbe

colour

Gewicht

weight

Material

material

brutto/gross

price: *

(incl. drumsticks)

Dengaku-Daiko

39cm

25cm

glänzend / shiny red

~ 3kg

tung-wood

with cowhide

450€

GÔ Katsugi Daiko

34cm

44cm

red-brown

~ 4kg

hornbeam

with cowhide

550€

Katsugi Daiko

45cm

53cm

glänzend / shiny black

~ 5kg

tung-wood

with cowhide

595€

Katsugi Daiko

45cm

53cm

glänzend / shiny red

~ 5kg

tung-wood

with cowhide

595€

Okedo Daiko

54cm

54cm

glänzend / shiny black

~ 10kg

tung-wood

with cowhide

820€

Okedo Daiko big

(one drumhead with Tomoe-logo)

110cm

84cm

glänzend / shiny red

~ 36kg

tung-wood

with cowhide

3.900€
DEUTSCHLAND
Österreich Luxemburg

Netherland Belgium France Poland Denmark

Spain
Hungary
Slovakia
Italy
Sweden
Slovenia

Ireland Portugal Finland
Greece
Estonia
Switzerland
U.K.
USA
Canada
U.A.E.
Australia
New Zealand


SHIPPING
COSTS for 1x Katsugi Daiko drum Ø45cm


15€

32€
32€
36€
40€
45€

85€



105€


Express shipping is also possible - costs on demand!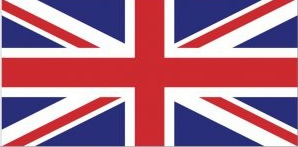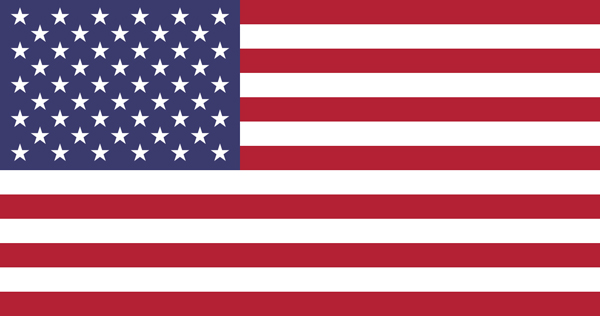 The KATSUGI-/ OKEDO-DAIKO consists of glued staves made of Tung wood and it very lightweight. It is mostly played while suspended from the neck and shoulder with a belt, making it possible to drum it on both sides. Suitable Okedo stands will be required for the larger Okedo-Daikos (Diameter: 54cm, 75cm & 110cm), which we also sell. The drumheads consist of cowhide and will be tensioned with lilac coloured or white cotton thread. The surface of the Okedo has a high-gloss black or red varnish making it look very classy. All Okedo-Daikos are supplied untensioned!
The small DENGAKU-Taiko is a real featherweight.
Its construction and material are identical to those of the Katsugi Daiko, but its weight of just 3 kg gives the drummer almost unlimited mobility and flexibility, especially for dance elements. For this reason, this taiko drum was initially often used for the traditional Dengaku (田楽) dances, a typical musical form of the Heian era. With its bright red finish and the white cotton tensioning rope, it also has a strong visual impact. Use of a shoulder strap enables the drum to be played on both sides, in addition to use as a hand drum.
This new GÔ 強 KATSUGI Taiko (Ø34cm/h:44cm) is a small drum that packs a big punch!
Played slung over your shoulder with a strap, it is a kind of Katsugi-Okedo- Daiko, but the GÔ Katsugi Taiko sounds different, is smaller and lighter, weighing in at just 4.5 kilos, enabling great freedom of movement and fast playing for the player. The body is made of solid hornbeam wood, with strong cotton rope tensioning the cowhide skins to achieve bright, powerful sound similar to that of a shime-daiko.
GŌ Katsugi
The lined, comfortable nylon shoulder strap for the Katsugi-/Okedo-DAIKO is adjustable to any desired length. Both ends are equipped with cords to attach the strap to the Okedo. Worn over the shoulder, the strap facilitates the traditional twosided drumming of the Okedo Daiko.
Orders:
Please send us your order request via email (incl. your address) or call us. We immediately confirm your order via email (incl. shipping-cost) and you'll receive an invoice. Payment is possible by PayPal, bank-transfer or credit-card and shipping is directly after receipt of payment. (incl. tracking-link) We look forward to hearing from you. info@kaiser-drums.de +49 (0) 211-4370715.
All prices include 19% German VAT * for delivery to countries outside the EU net prices are charged, thus without 19% VAT.
The import sales tax applicable in the country of destination and possibly arising customs duties are borne by the buyer and are not included in the stated shipping costs. Unfortunately, we cannot predict the amount of these taxes and fees, as they vary from country to country.
Yours KAISER DRUMS Team
Dengaku-Daiko in shiny-red - Ø39cm/h:25cm (450€)

.