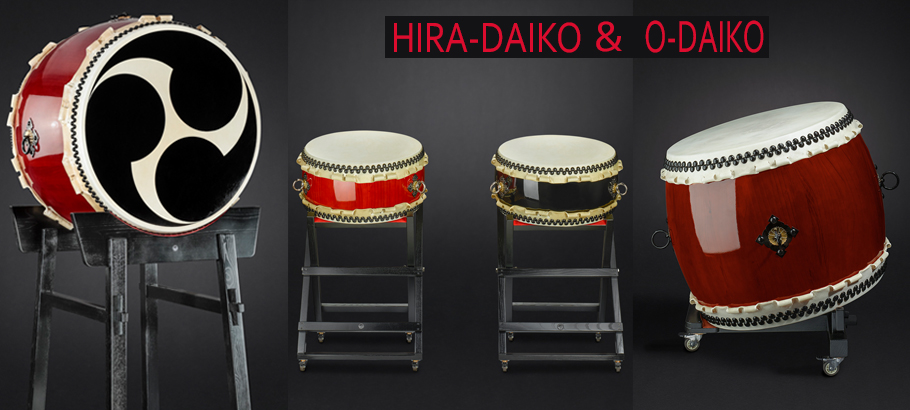 small O-DAIKO Classic drum

(English, photos & prices - see below!)
Ø75cm, Höhe 70cm (small O-Daiko)
Alle Modelle der CLASSIC Kollektion werden aus einzelnen Dauben zusammengesetzt, die aus dem vollen Holz gesägt, getrocknet und miteinander verleimt werden. Es wird Lärchenholz verwendet. Die Korpus-Oberfläche ist rotbraun gebeizt und zeigt die schöne, natürliche Maserung des Holzes. Die abschließende, transparent glänzende Lackierung gibt der Trommel ihren edlen Touch und schützt sie zusätzlich vor äußeren Einflüssen. Beidseitig sind Wasserbüffel-Felle zweireihig aufgenagelt (mittlere Fellspannung). Bei der small O-Daiko bleibt ein ca. 10cm breiter Fellrand unterhalb der Nagelung bestehen (Mimi). Versehen mit 4x schmuckvollen Griffen
.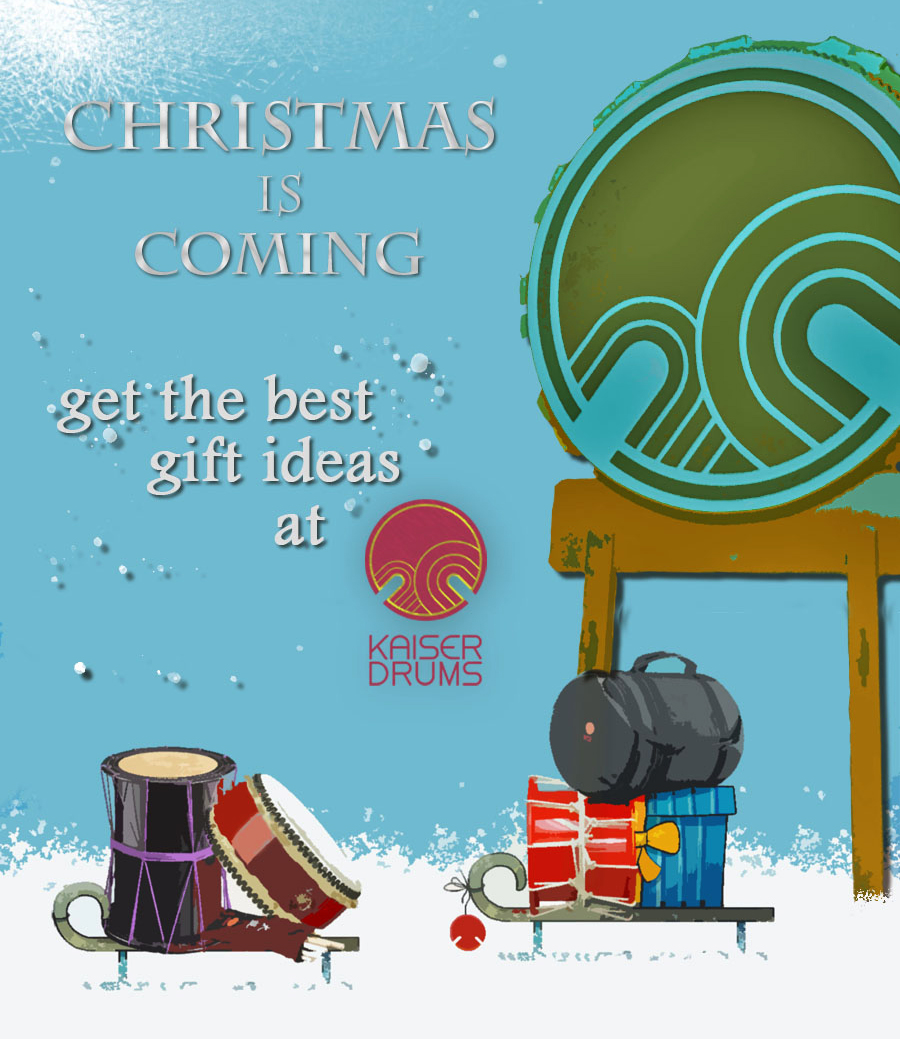 HIRA- / O-DAIKO high quality

drums

Ø48cm, Höhe 25cm

Ø85cm, Höhe 75cm

Ø90cm, Höhe 65cm

Die Kaiser high quality HIRA / O-DAIKO Linie überzeugt durch ihre hochwertige Verarbeitung und die Auswahl erlesenen Materials auch den professionellen Taiko Trommler. Die traditionelle Fellspannung mit überstehendem Fellrand (Mimi), gibt der Taiko die typisch japanische Optik und ermöglicht bei Bedarf das Nachspannen des beidseitig aufgenagelten Rinderfells. Der sehr sorgsam getrocknete, aus einzelnen Dauben verleimte Korpus der Hira-Daiko wird aus formbeständigem Pinienholz gefertigt. Im typischen KAISER DRUMS rot-braun gebeizt und mit transparenter Lackierung als Finish versehen, überzeugt diese Taiko durch Material, Verarbeitung und Klang langfristig auch bei intensiver Nutzung.

Ø48cm Hira Daiko 3x massive Premium Griffe (KAN) zum Tragen und zur Aufhängung. Mittlere Fellspannung (medium pitch).

Ø85cm O-Daiko 4x massive Premium Griffe (KAN) zum Tragen und zur Aufhängung. Hohe Fellspannung (high-pitch)

Ø90cm Hira Daiko 4x massive Premium Griffe (KAN) zum Tragen und zur Aufhängung. Hohe Fellspannung (high-pitch)




Bestellungen:

Bitte senden Sie uns Ihren Bestellwunsch perr Email (incl. Ihrer Adresse) oder rufen Sie uns an. Sie erhalten dann von uns eine Bestätigung Ihrer Bestellung (incl. Versandkosten) und anschließend senden wir Ihnen eine Rechnung zu. Sie zahlen per PayPal, Banküberweisung oder Kreditkarte und wir versenden die Taiko-Artikel sofort nach Zahlungseingang. (inkl. Sendungsverfolgung)

Wir freuen uns auf Ihren Kontakt.

FB-Bewertungen / Google-Bewertungen

Alle Preise verstehen sich inkl. 19% deutscher MwSt. - * bei Lieferung in Länder außerhalb der EU werden Nettopreise berechnet, also ohne 19% MwSt. Die im Empfängerland geltende Einfuhrumsatzsteuer und eventuell anfallende Zollgebühren trägt der Käufer. Sie sind nicht in den angegebenen Versandkosten enthalten. Die Höhe dieser Steuern und Gebühren können wir leider nicht vorhersagen, da sie in den jeweiligen Ländern variieren.

Ihr KAISER DRUMS Team

#taiko #wadaiko #taikodrums #japanischetrommeln #japanesedrums #taikotrommeln #tamboresjaponeses #bachi #tambourjaponais #japanesedrum #tamburigiapponesi #taikodrumsticks #kaiserdrums #hiradaikodrums #Nagadoudrum #Miyadaikodrum #taikokonzert #nagadodrum #shimedaiko



DEUTSCHLAND
Österreich Luxemburg
Netherland Belgium France Poland Denmark

Spain
Hungary
Slovakia
Italy
Sweden
Slovenia
Ireland Portugal Finland
Greece

Switzerland
U.K.
USA
Canada
U.A.E.
Australia
New Zealand


TRANSPORT
COST for
"1x Hira Daiko Ø48cm / h:25cm" with stand
or and case.


20€

42€
42€
47€
57€
57€
145€
180€
Express shipping is also possible - costs on demand!